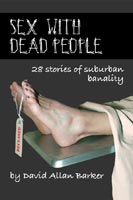 As of this morning, my short story collection, Sex With Dead People, came available for free download in multiple formats from Smashwords.  Here's the short blurb:
What do you do if the subway breaks down mid-tunnel and you have to pee?  If Leonard Cohen unexpectedly arrives for dinner, how close should you let him get to your wife?  What do you say to a psychiatrist who shows an unnatural interest in your brains?  With more wit than wisdom, David Allan Barker offers 28 short stories which answer these and other pressing questions.
I had originally thought to name the book after the tag I use here at nouspique –> Terrors of the 21st Century.  Jack Cooper wins the book-naming contest by tipping the scales in favour of Sex With Dead People.  As a prize, Jack wins a free copy–wait, it's already free.  As a prize, Jack gets a mention in the acknowledgments.  Ah, literary immortality.  And why not?  After all, he's the musician who set a poem of mine to music.
In case you were wondering, the corpse feet on the cover belong to my wife.  Please keep the frigid jokes to yourselves.  Actually, it's quite the contrary, and that posed a technical problem for me.  After all the photoshopping, I noticed an error, but being lazy and frustrated, I let it lie (so to speak).  Do you see it?  The feet have bulging veins.  If this was really a corpse, the veins wouldn't show.  It takes a pumping heart to make veins do that.  Or is it arteries?  I can never keep that one straight.
Presumably I will continue to write tales of suburban banality and post them here at nouspique, so look for a sequel in a year or two.
Here's the extended description:
In Sex With Dead People, David Allan Barker introduces us to a zombie psychiatrist, a vengeful tree, alien rednecks, a horny sasquatch, an aphasic priest in a whorehouse, and a block party for suburban cannibals.  At the same time we confront the frustrations of suburbia in all its banality:  pretentious neighbours, waste disposal disasters, lawn-care rivalries, dehumidifiers run amok, invasive bugs, perfumes that smell like urine pucks, and labyrinthine roads through communities where each house looks like every other.  Then, of course, we have the title story, Sex With Dead People (which has nothing to do with necrophilia, in case you were wondering).  Here, we discover one of the horrible truths of the 21st century:  I forgot what it is.  Oh yeah, people have short attention spans.  No, that's not it.  Maybe something to do with memory.