One of the things I don't like about writing websites is that they're about writing.  There are all kinds of sites out there that offer tips about writing, inside looks at the book industry, how to get an agent, how to market your product, sites like this and this.  They're popular, as were writing magazines and vanity presses in the age before the internets.  I've never understood that popularity.  These magazines and websites have always struck me as falling just shy of the label "scam."
Many people have an urge to write.  Who knows what motivates that urge.  Maybe they want to satisfy a deep-seated psychological need.  Maybe they hope to become famous.  Maybe they're driven by the lottery mentality:  take a crap shoot at the big money.  But here's the hard reality:  most people who entertain such an urge end up cranking out horrid pieces of shit, enriching vanity presses, and amusing cruel reviewers like me who pass a couple hours of an afternoon licking our lips as we tear into their work.
I prefer writing websites that concern something else.  I'm stirred by writers who demonstrate to me their commitments — not simply their commitments to good writing (which is important), but their commitments to wider concerns.  Take, as an example, Cory Doctorow's Boing Boing and his involvement in the Electronic Freedom Frontier.  I think, too, of some of my favourite authors in the pre-digital age.  Anthony Burgess didn't start writing until he was nearly forty and, then, mostly because he was diagnosed with terminal cancer (which proved to be not so terminal).  He was already an established composer and a polyglot.  In other words, he had a lot more to bring to his writing that the simple fact of an urge.  Or closer to home, think of Margaret Atwood with her love of birding, and commitments to feminist and environmental issues.
I am tired of all the solid wonders who get churned out of the MFA programs.  I am tired of literary agents who say they give serious weight to an author's professional training.  The "product" is slick.  It's marketable.  It's a good "property."  But for all that, nine times out of ten, it gives me no reason to care.  There has to be something lurking in the background — a powerful experience, a deeply held philosophy, a prophetic voice — something — anything to persuade me that the author is motivated by more than a bare urge to write that's been stewed in some training.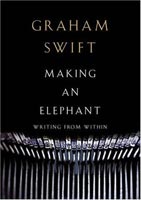 So what to make of Graham Swift's Making An Elephant which, at first glance, looks like yet another book marketed to all those aspiring writers with their private urges?  There's the tagline:  "Writing From Within" set above an image of a typewriter.  Then there are the review snippets on the back cover.  At the top is a quote from The Oprah Magazine — not a good sign.  From the Toronto Star, we get:  "Especially good when challenging the common misconception that fiction is merely cleverly disguised autobiography." Oh, so this must be a book about the craft of writing.  And maybe it includes some reflections on more theoretical concerns.
It turns out that's not at all what the book is about.  The quote from the Toronto Star is true, but it refers to 15 pages in a book that's nearly 400 pages long.  Swift makes an elegant plea to readers of fiction to resist the temptation to ground the story in the facts of its author's life, for "the whole challenge and reward of fiction lies in its liberation from personal fact."  He goes on to play with the tension between geographical details that fix a story to a particular patch of ground on the one hand, and a long tradition of seeking a story's meaning in the universal values which raise it out of its particularity on the other hand.  He notes that "we live in an increasingly dislocated world, a world in which cultural as well as geographical boundaries become ever more volatile and confused.  Of course, writers should respond to this, but it might be thought that writers, who have to write from some personal fixed point … would be at a disadvantage."  He disagrees, suggesting that "mental dislocation" is bound up in what it is that writers do.  This is all good stuff, but not really what the book is about.
After reading Making An Elephant, I'm of the opinion that Graham Swift isn't really interested in writing; he's interested in people and writing is the pretense he uses to satisfy that interest.  In that respect, he has more in common with authors like Burgess and Atwood.  Apart from a couple short essays and some poetry he wrote to break a drought between novels (and which really ought to have been omitted), Swift offers us a series of portraits.  Some, like the title piece, are personal in nature ("Making An Elephant" memorializes his father).  But most are portraits of authors.  These aren't portraits of the authors as writers, but as full-blooded people with other concerns.
He writes about his desire to learn how to play the guitar and how he co-opted Kazuo Ishiguro (an accomplished guitarist) to help him buy a guitar.  There's an account of his friendship with Caryl Phillips and how the two of them skipped out on some boring event at Toronto's Harbourfront International Festival of Authors and went drinking instead at the now defunct Bamboo Club on Queen Street West.  (That in itself offers a revealing take on Swift's priorities.)  He tells of his 1989 trip to Prague just days after the Velvet Revolution in search of the dissident author, Jiri Wolf, who was rumoured to have been released from prison.  Wolf proved elusive, but Swift finally caught up to him in a hotel restaurant where they spoke briefly.  In a way, Swift failed in his assignment because, when the meeting was done, he had no more notion who Wolf was than beforehand.  As readers, we come away with a sense of Swift's overarching desire to encounter Jiri Wolf, the man, and his indifference to Jiri Wolf, the collection of facts in a dossier.  In this regard, Swift presents as fundamentally compassionate.  In another piece, Swift tells how he and his family entertained Salman Rushdie (and security guards) on Christmas Day, likening Rushdie to an Islamic Father Christmas.  There are memories of fly fishing with Ted Hughes who seemed, at times, more interested in fly fishing than in writing poetry.  Swift rounds out the collection with an encounter with an author now dead more than 400 years — Michel de Montaigne.  As with his flesh-and-blood encounters, Swift is concerned to pierce the writing to get at the man.
Maybe it's best to describe Making An Elephant as a book about how to enjoy people where they are rather than where you wish they were.  That may not be an accurate description, but it's certainly closer to the mark than anything indicated by the book's cover.